WooSend Subscription Email Notifications
Extend the WooCommerce Subscriptions plugin email notification functionality with WooSend Subscription Email Notifications. Create email rules to send email notifications to subscribers before and after key subscription events, such as before and after the subscription renewal, expiration, cancellation, trial end, or start date. Create unlimited rules, and target specific subscription products and product categories.
Improve subscriber communication and retention, and save time.

Pro
License: 1 site
Buy Now
Requirements: WordPress, WooCommerce, and the WooCommerce Subscriptions plugin are all required.
Features
Send emails to subscribers before or after subscription renewal
Send emails to subscribers before or after subscription expiration
Send emails to subscribers before or after subscription cancellation
Send emails to subscribers before or after subscription trial end
Send emails to subscribers after subscription start date
Create unlimited email rules
Specify how many days/weeks/months to send before or after an even
Specify how many times to send after an event (1 or more)
Customize email content
Target or exclude specific products
Target or exclude specific product categories
Create rules for customers and administrators
Send administrator emails to multiple email addresses
Customize email templates for each email type/rule
Override email templates in your WordPress theme for greater customization
Install on up to 1 site
Screenshots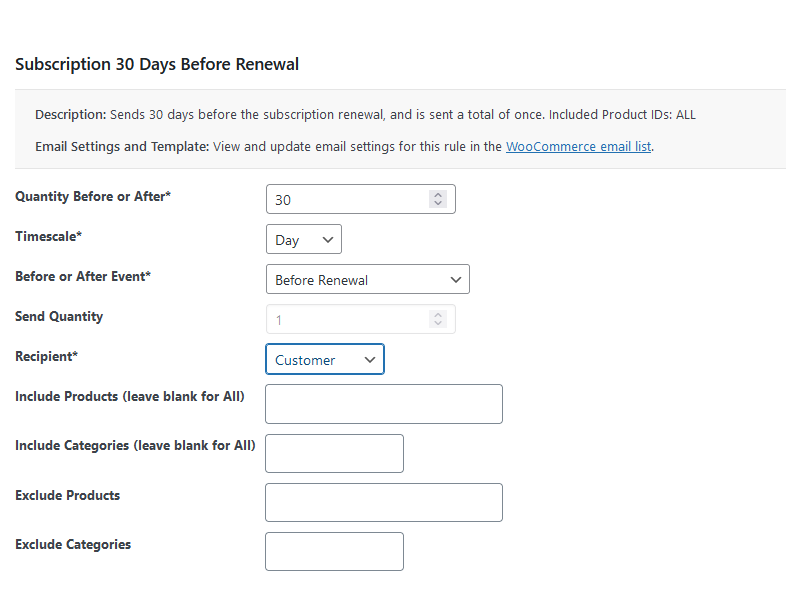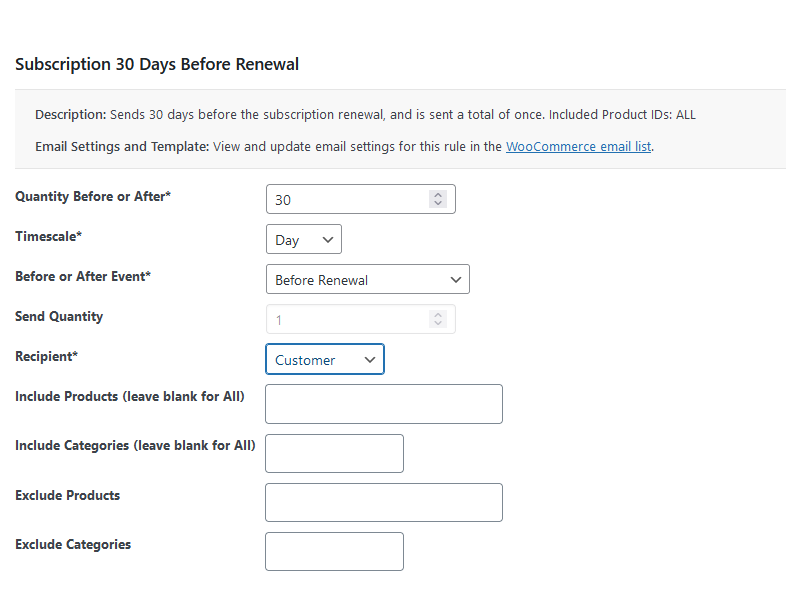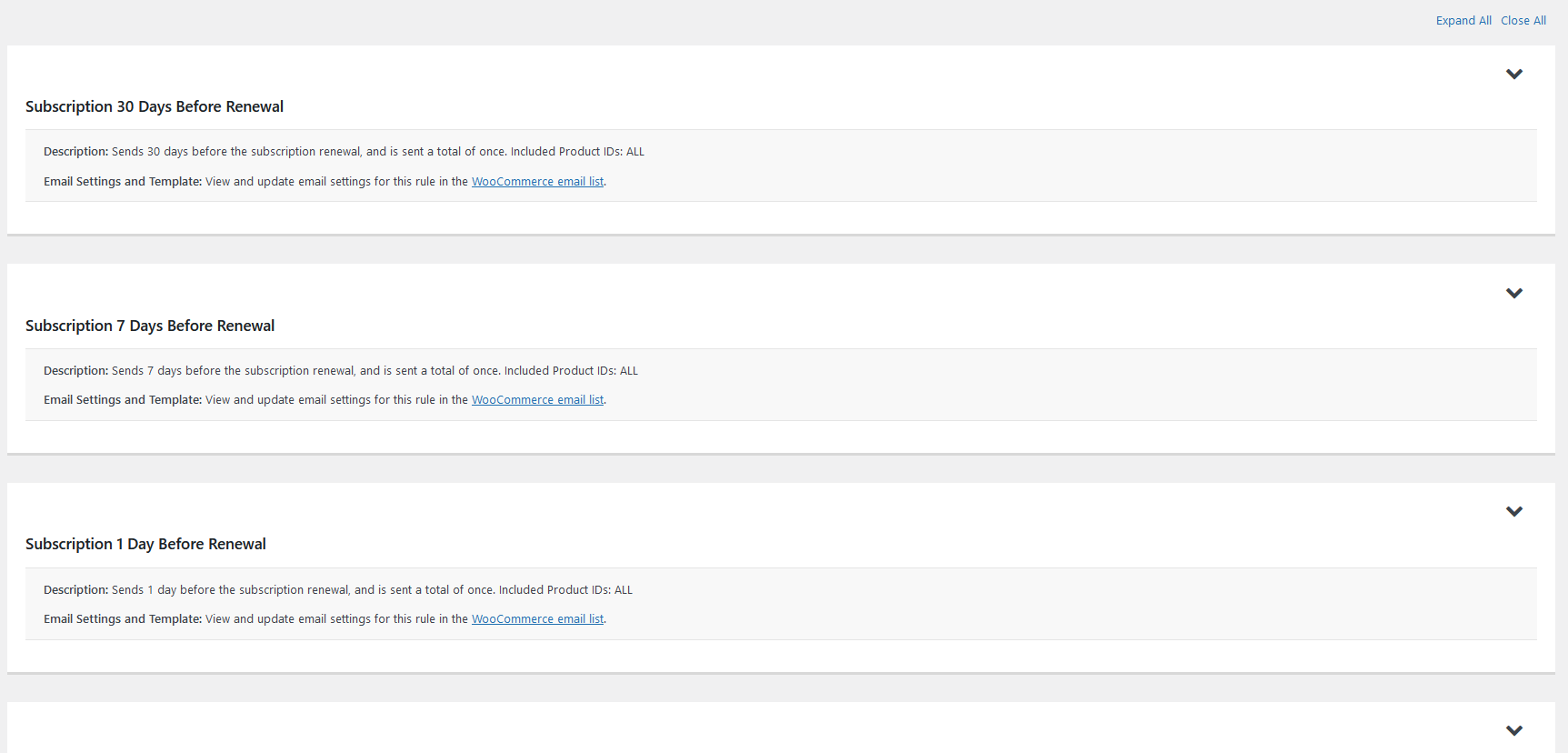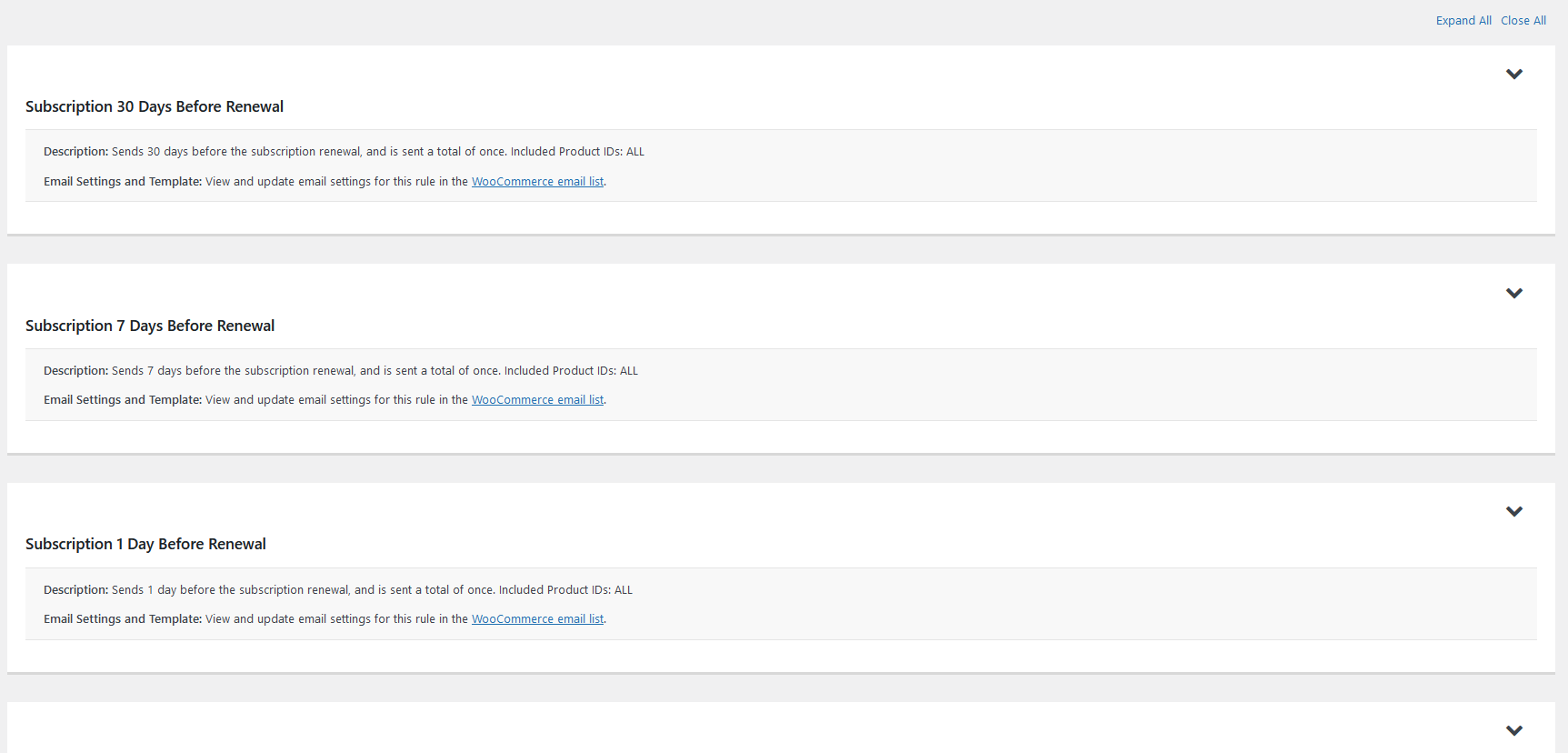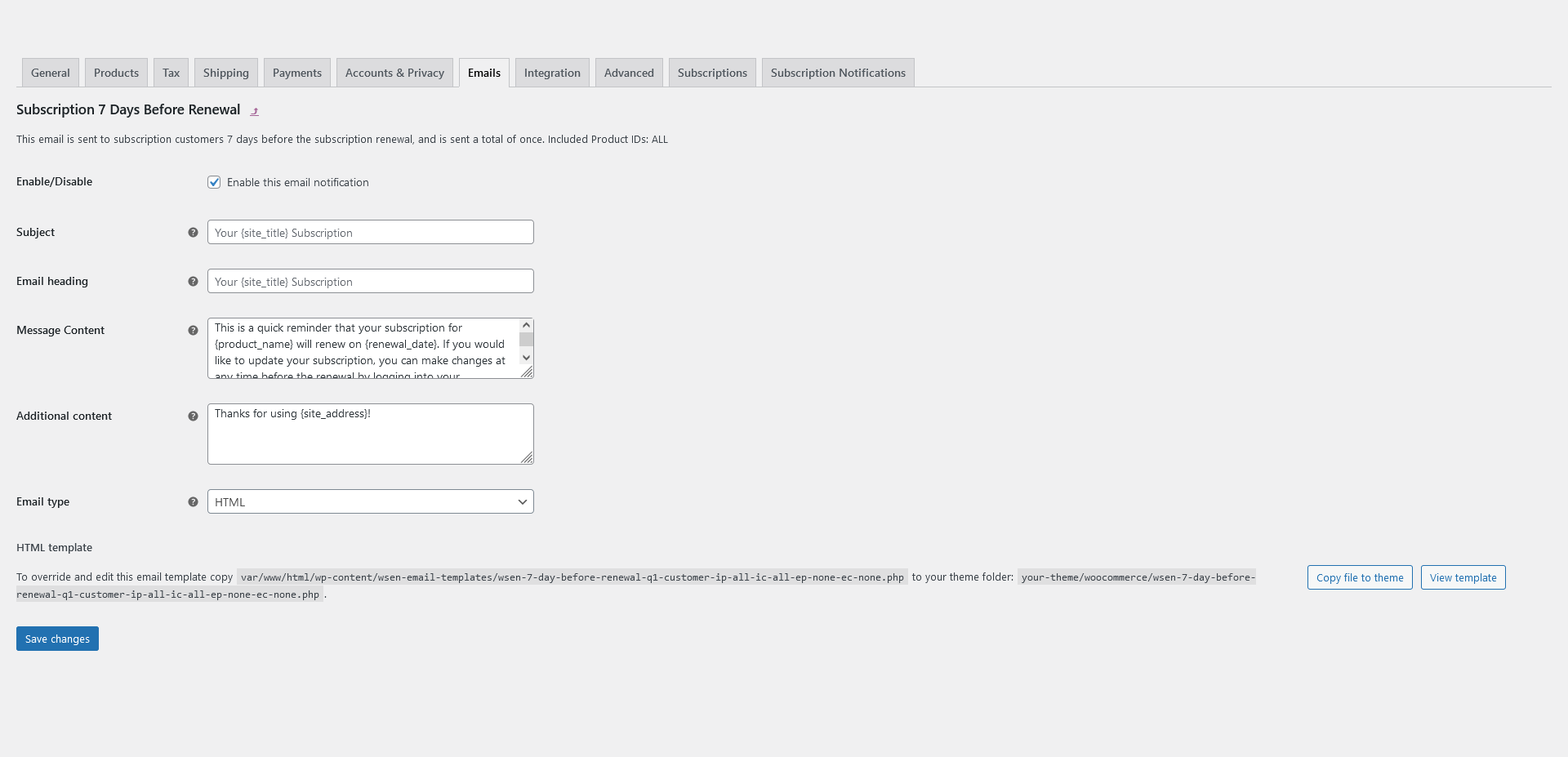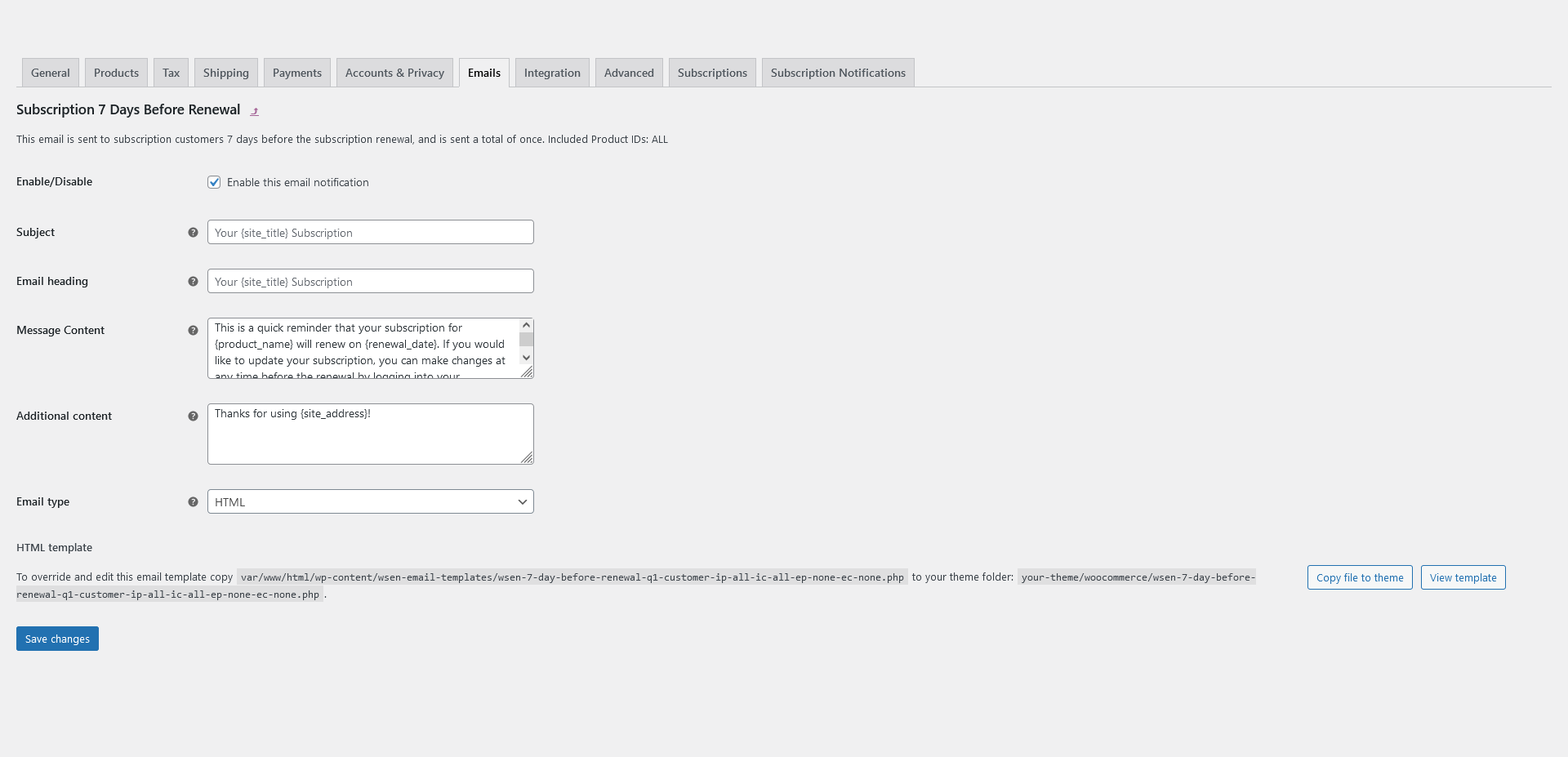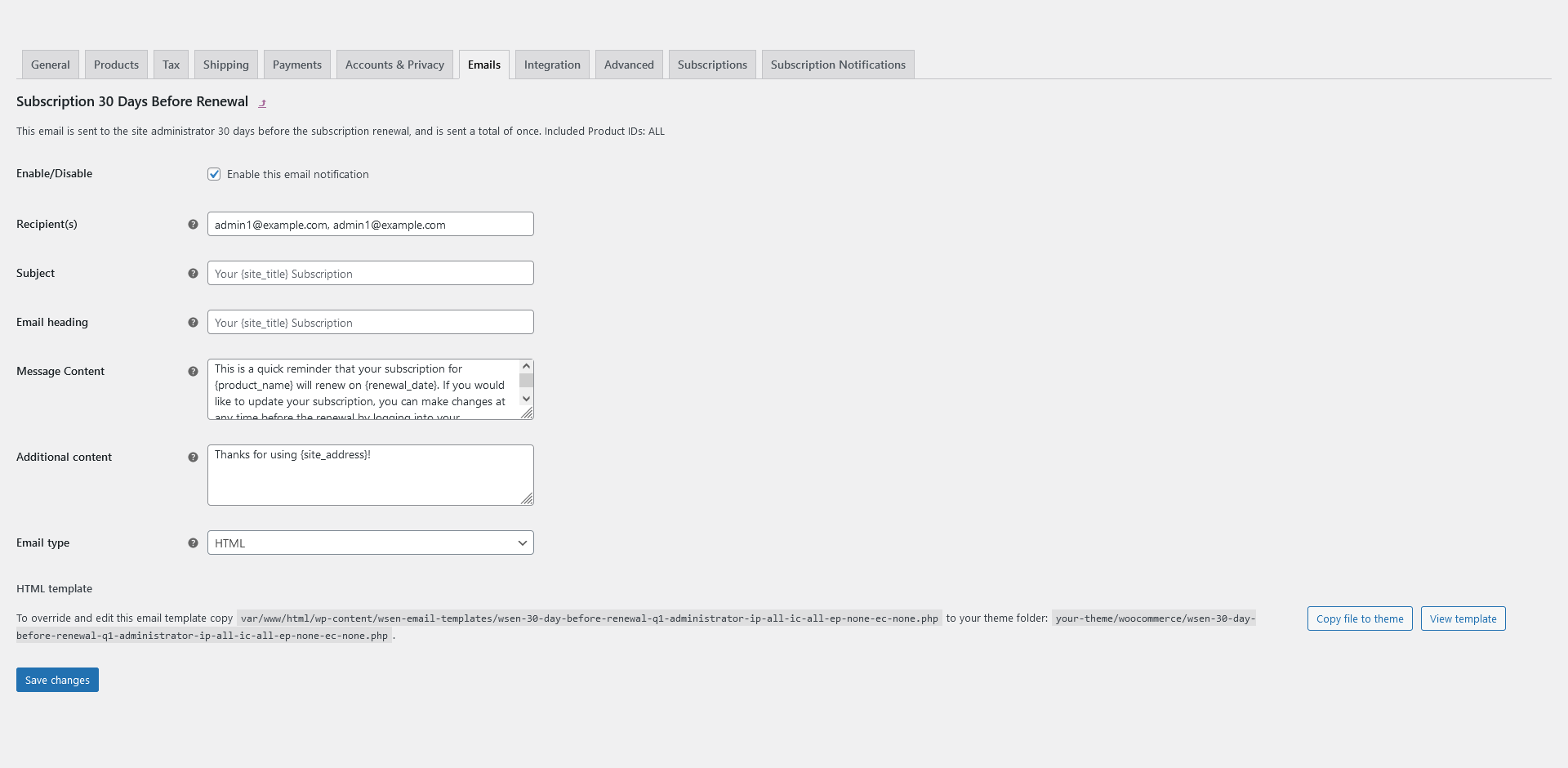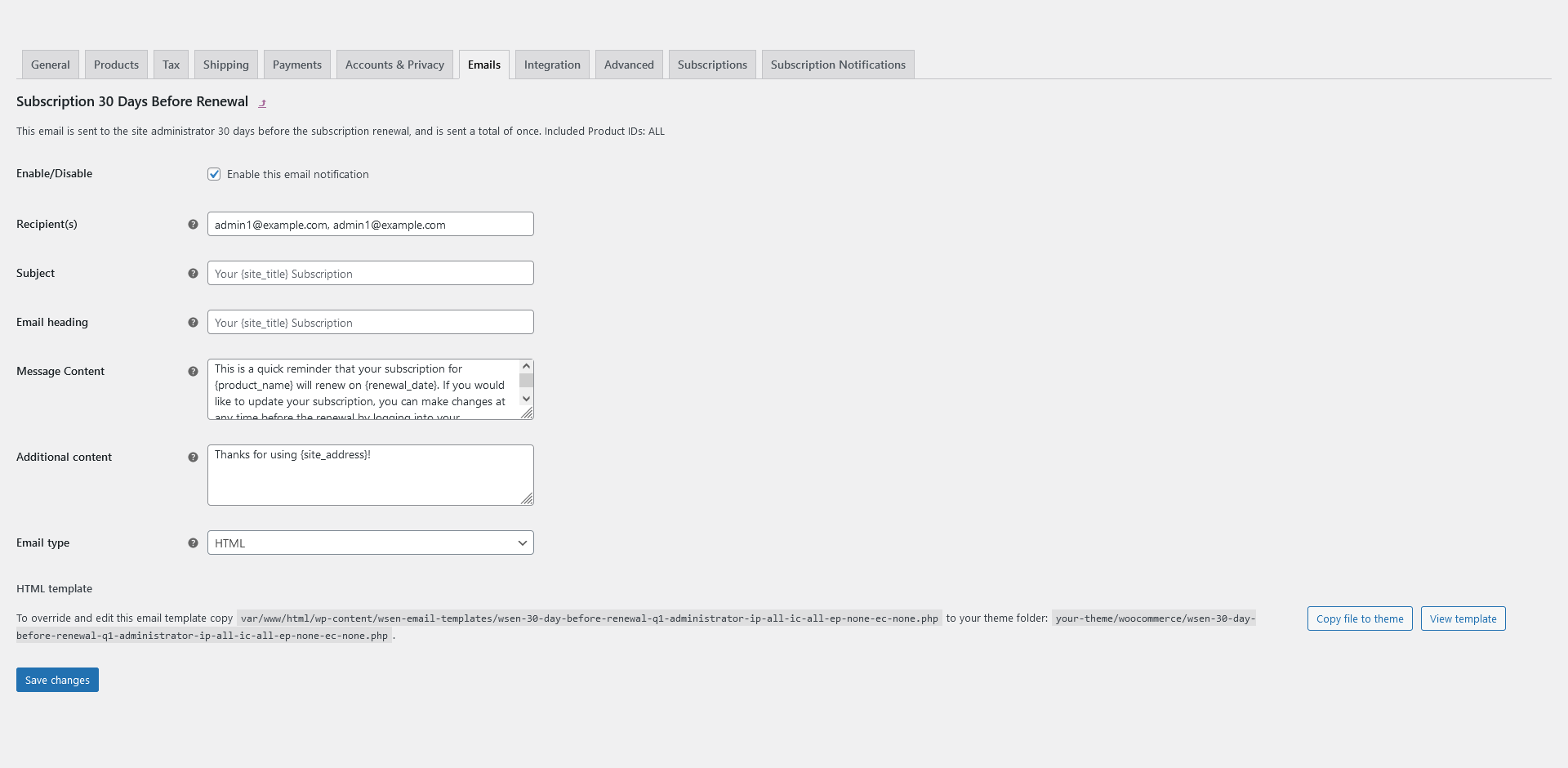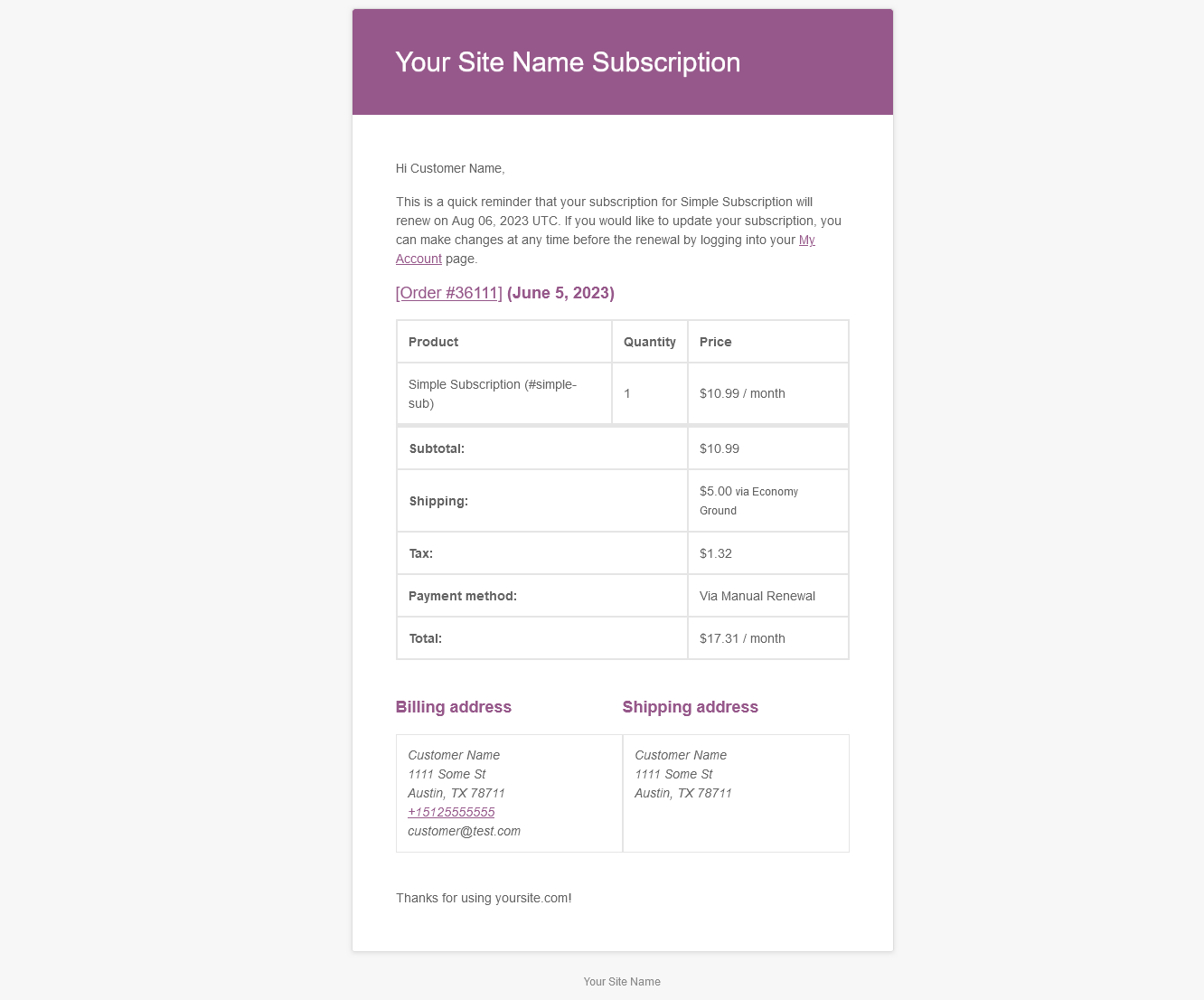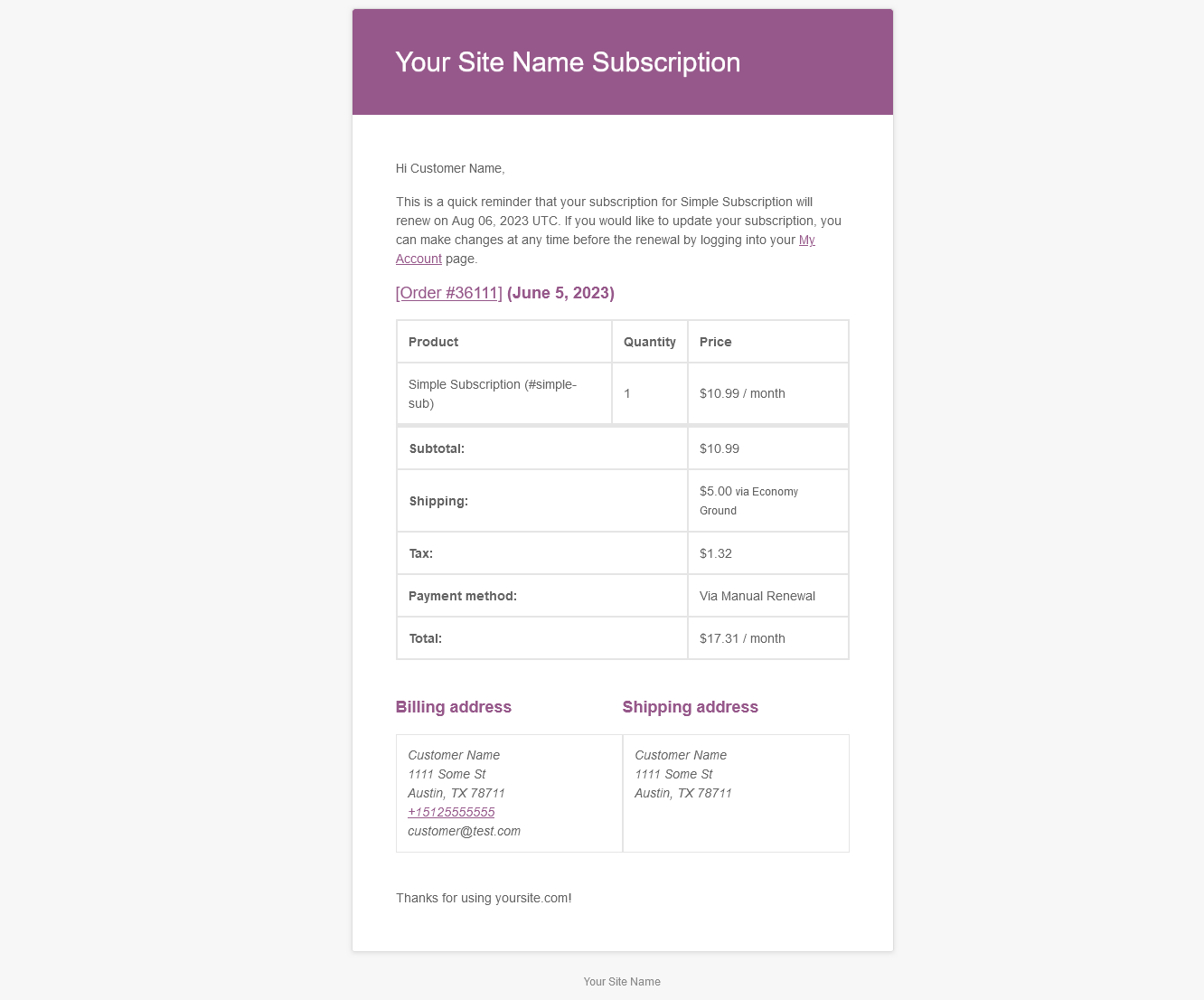 Buy Now
FAQ
Can I use this plugin without a WordPress site?
No. This is a WordPress plugin that is designed to be installed on a WordPress site. So, it must be used on a site that has WordPress intalled.
Can I use this plugin without installing WooCommerce?
Can I use this plugin without installing WooCommerce Subscriptions plugin?
Can use this plugin with other WooCommerce subscription plugins?
This plugin is designed to work with the
WooCommerce Subscriptions
plugin and has not been tested with other subscription plugins.
Can I customize the email message?
Yes. The email message can be edited by navigating to WordPress Admin -> WooCommerce -> Settings -> Email, then by opening the specific email that you would like to edit. Individual email templates can also be copied to your theme folder and fully customized to your need and preferences.
Can I use a different email for each email rule?
Yes. By default, WooSend creates a unique email template for each email rule that you create.
How many email rules can I create?
WooSend allows you to create unlimited email rules to suite your needs.
Do I have to renew my plugin license every year?
Your plugin license is set to auto renew every year by default, but you can disable this at any time by going to My Account -> Subscriptions and clicking "cancel". This will prevent your subscription from renewing at the end of the current term (you will still have access to updates until the end of your current term).
However, maintaining an active license each year ensures that you receive regular plugin updates throughout the year, which is important for ensuring compatibility with new versions of WordPress (and popular plugins). An active license also ensures that you receive critical patches, as well as new features, as they are released.
Can I lock in my renewal price?
Yes! You can lock in your renewal price forever, as long as you maintain an active subscription and have auto-renew enabled. This means that your renewal price will not change when the plugin price increases in the future.
If the subscription lapses, or the subscription is set to renew manually (i.e. auto-renew is disabled), the subscription will renew at the current price at the time of the renewal.
Buy Now
Documentation
View the WooSend documentation for installation instructions, how-to's, shortcodes, and workflows.
*Site-Level File Protection provides basic restriction of direct access to files in the Constellation Client Portal file directory (ex. https://your-company.com/wp-content/accp-clientfiles/invoice.pdf) that would otherwise be visible to search engines, bots, and anyone with the direct link. This feature works on the site level, rather than the server level, and while it adds a layer of security to control and restrict document and file access, it is not a comprehensive or fully reliable solution. Fully effective file and document access control must be configured at the server level, which is beyond the scope of this plugin. Please see our Terms of Service for more information.