Constellation Client Portal
Add client portal capability to your WordPress site, and manage your clients like a pro.
Add client portal capability to your WordPress site with the Constellation Client Portal plugin. Create private pages for your clients, customers, and team members, and provide them with private documents, files, and invoices that you can add to pages with simple shortcodes. Integrate with WooCommerce and accept payments for invoices and services.
Streamline your operation with Constellation Client Portal for WordPress.

Pro
$89.99
Annually until cancelled
License: 1 site
Buy Now
Requirements: WordPress; WooCommerce is also required if using WooCommerce specific features.
Features
Create private Company pages for your clients, customers, and team
Assign users to Companies and grant access to private Company pages
Redirect clients to their private Company page at login (optional setting)
Assign users to multiple Companies
Create private client documents
Create private client invoices
Further restrict access by user and role
Restrict access to client file and invoice categories by user and role
Easily add curated lists of client-specific Files and Invoices to Company pages using shortcodes
Enable invoice payment by integrating with your WooCommerce store
Protect Files and Invoices from direct access by humans, bots, and search engines with Site-Level File Protection*
Send notification emails to clients (automated and manual)
Access to plugin updates throughout the duration of your active license term
Access to email support throughout the duration of your active license term
Install on up to 1 site
Use Cases
Screenshots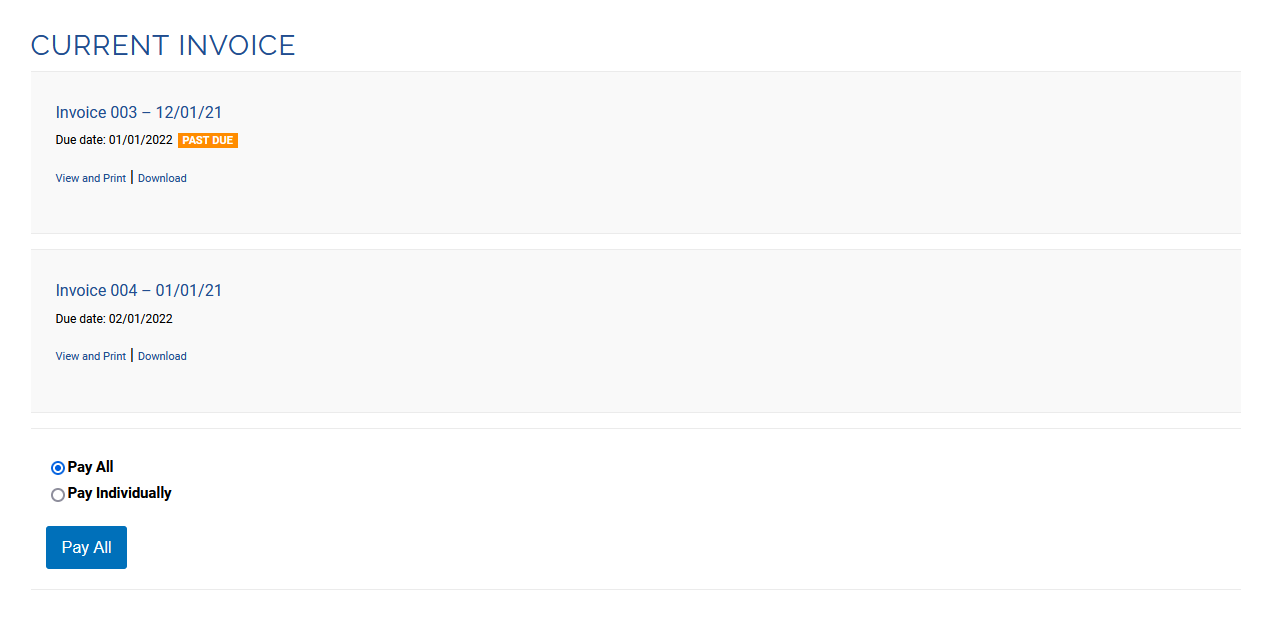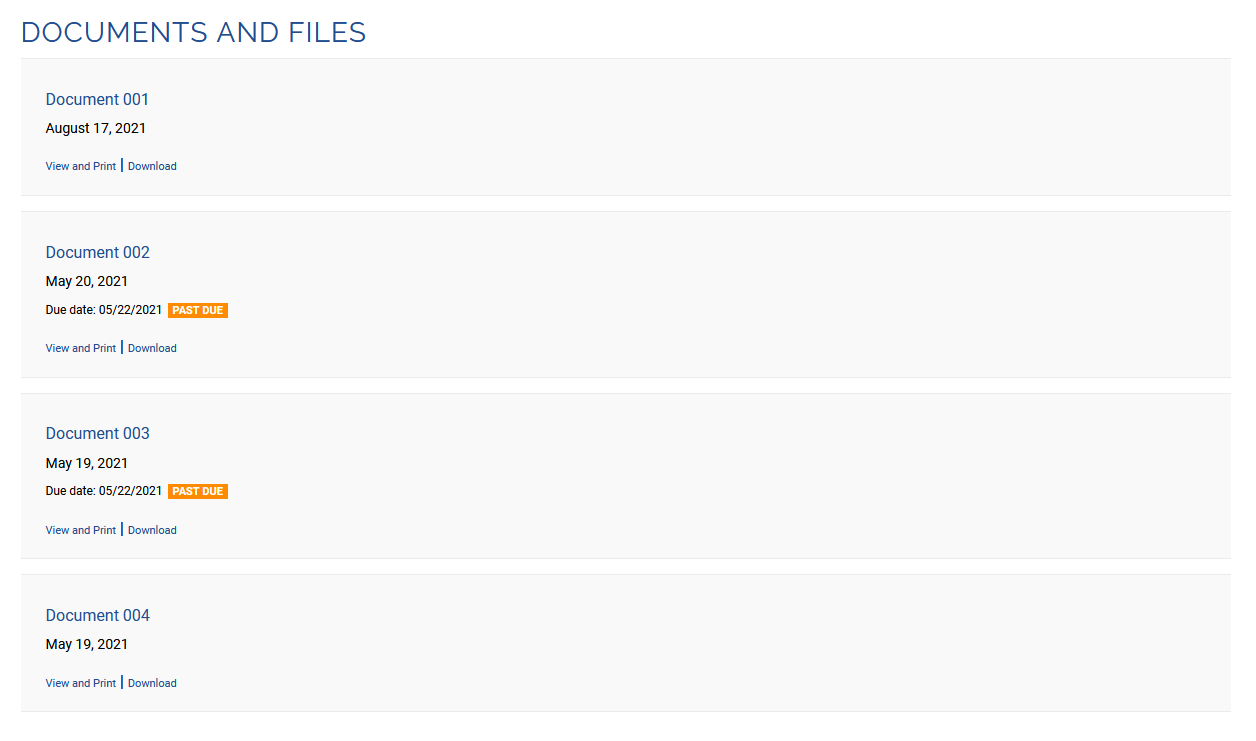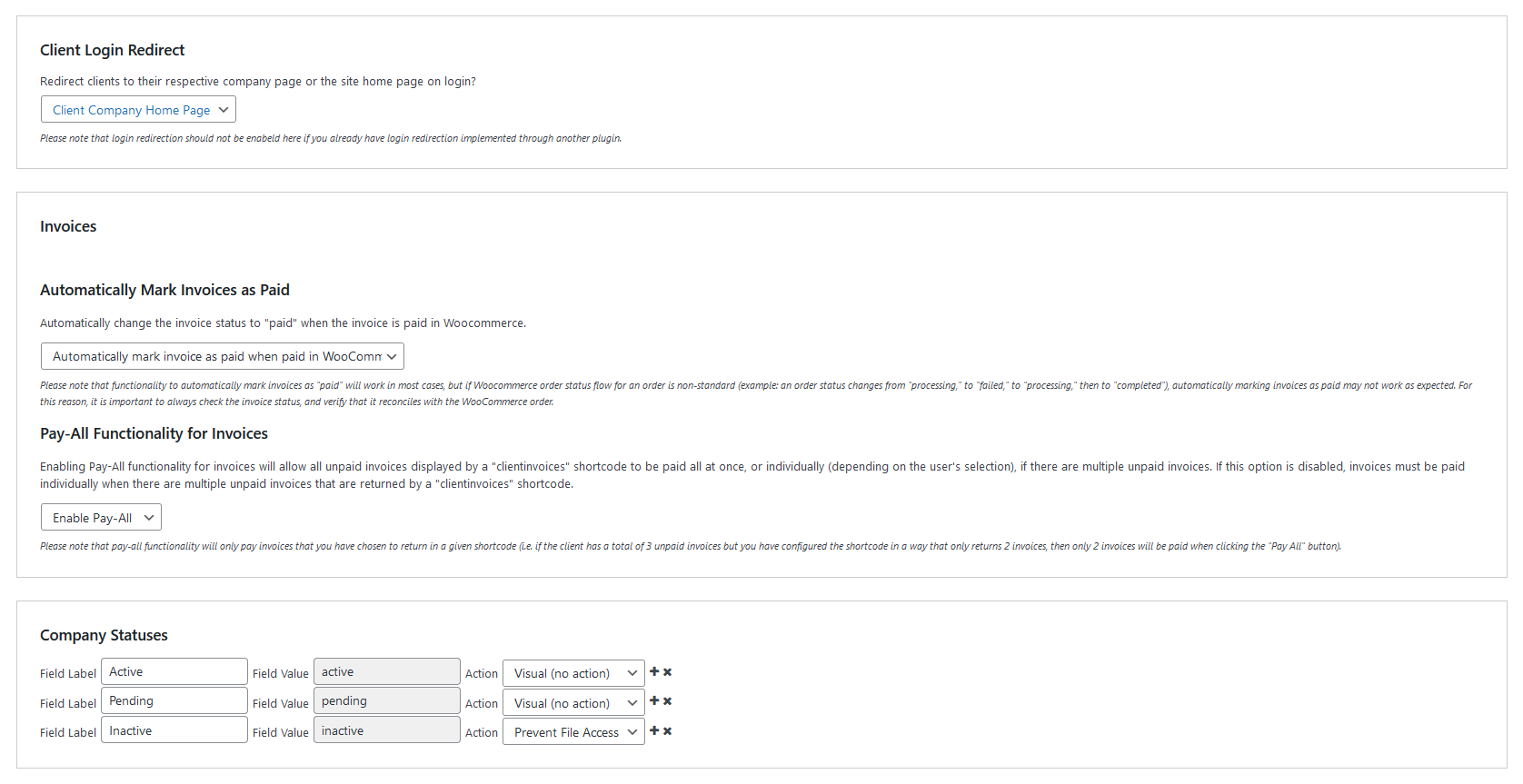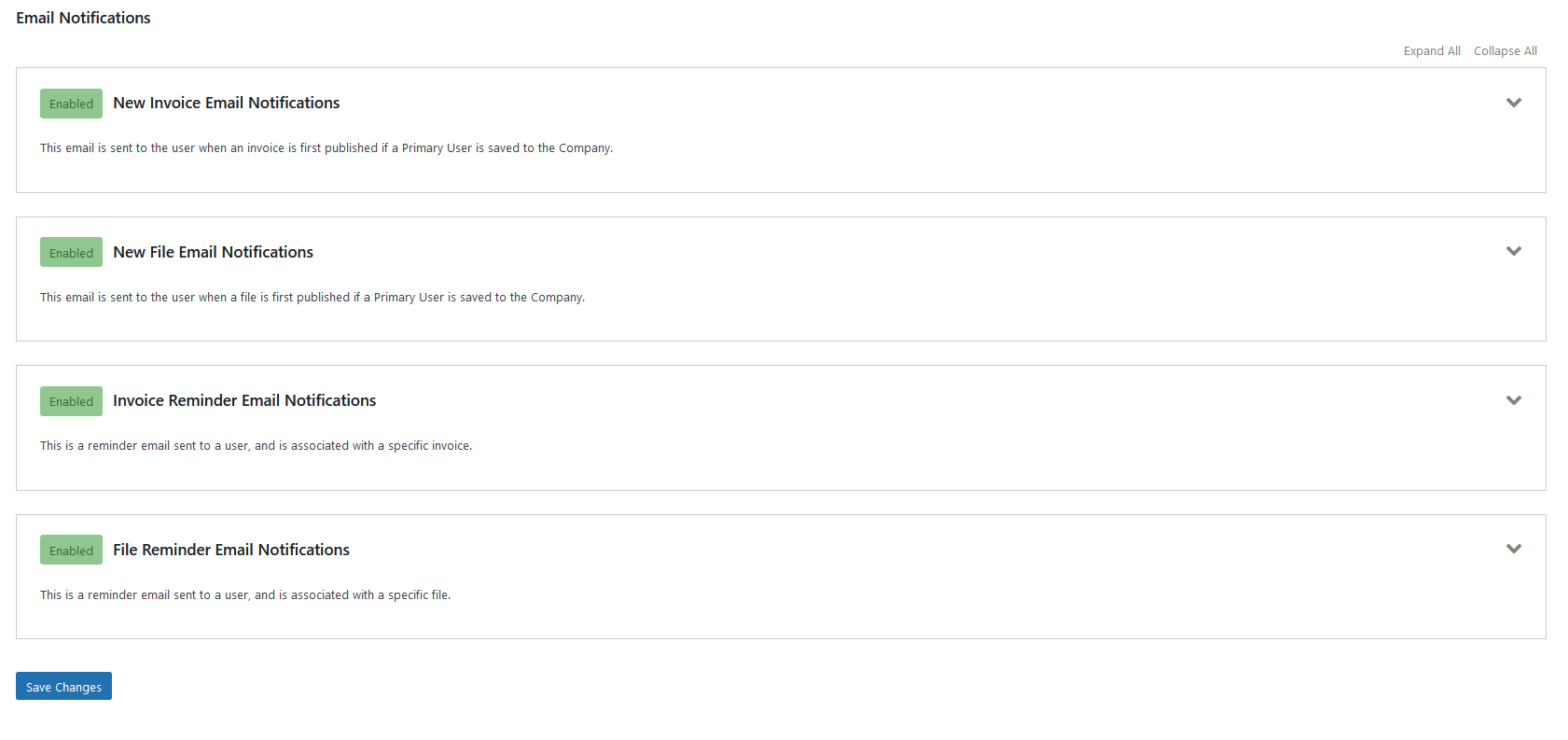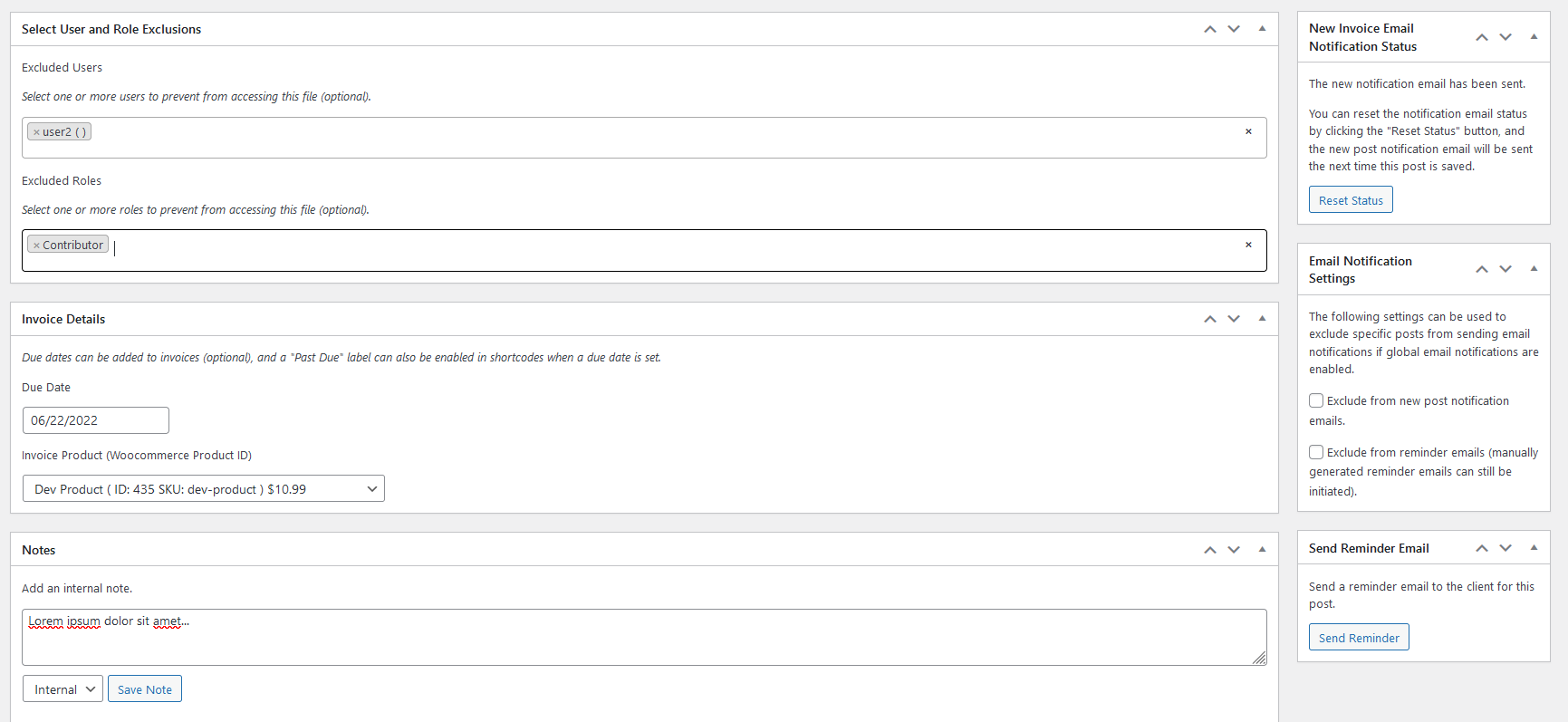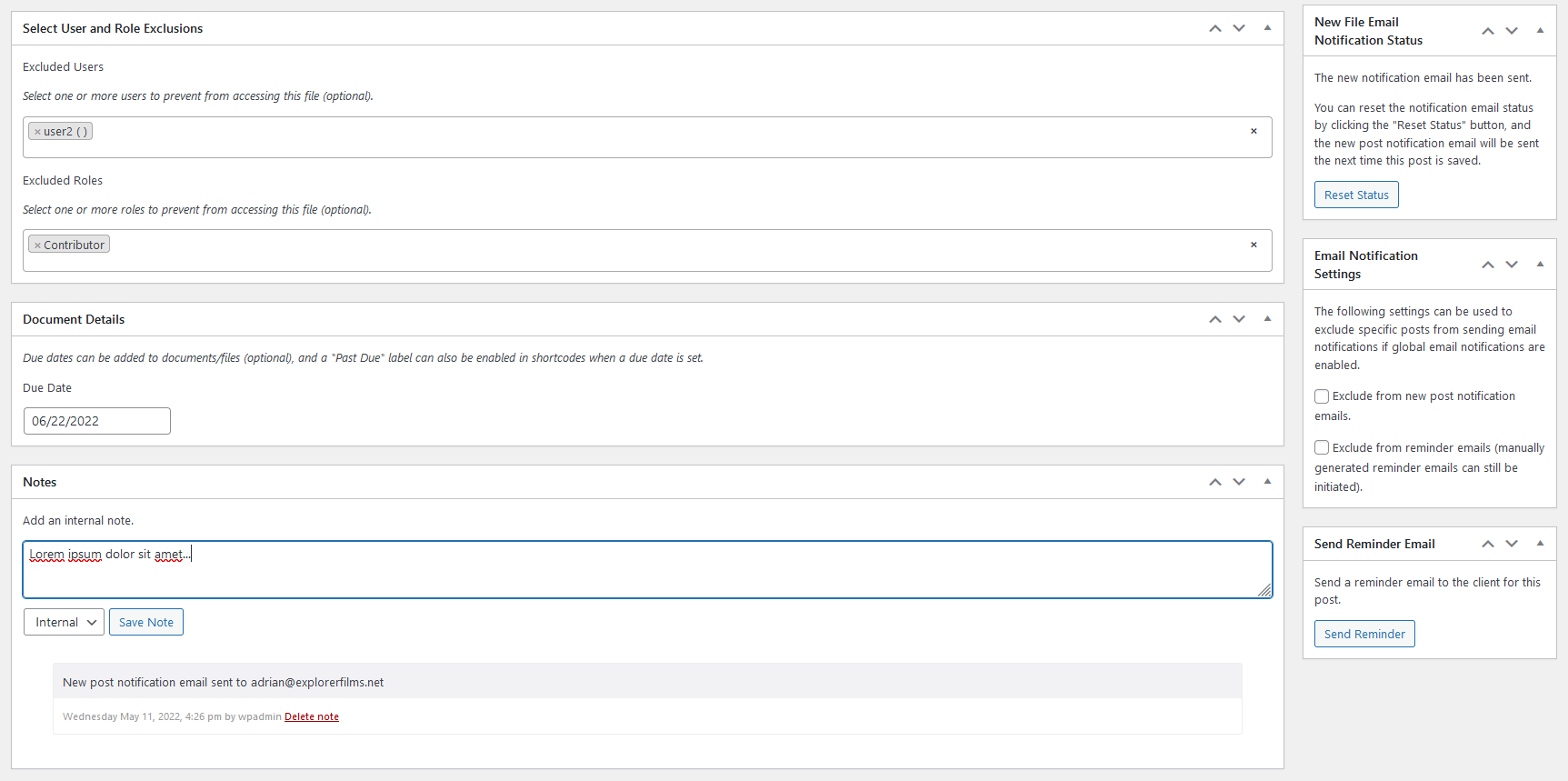 Pro invoice post settings.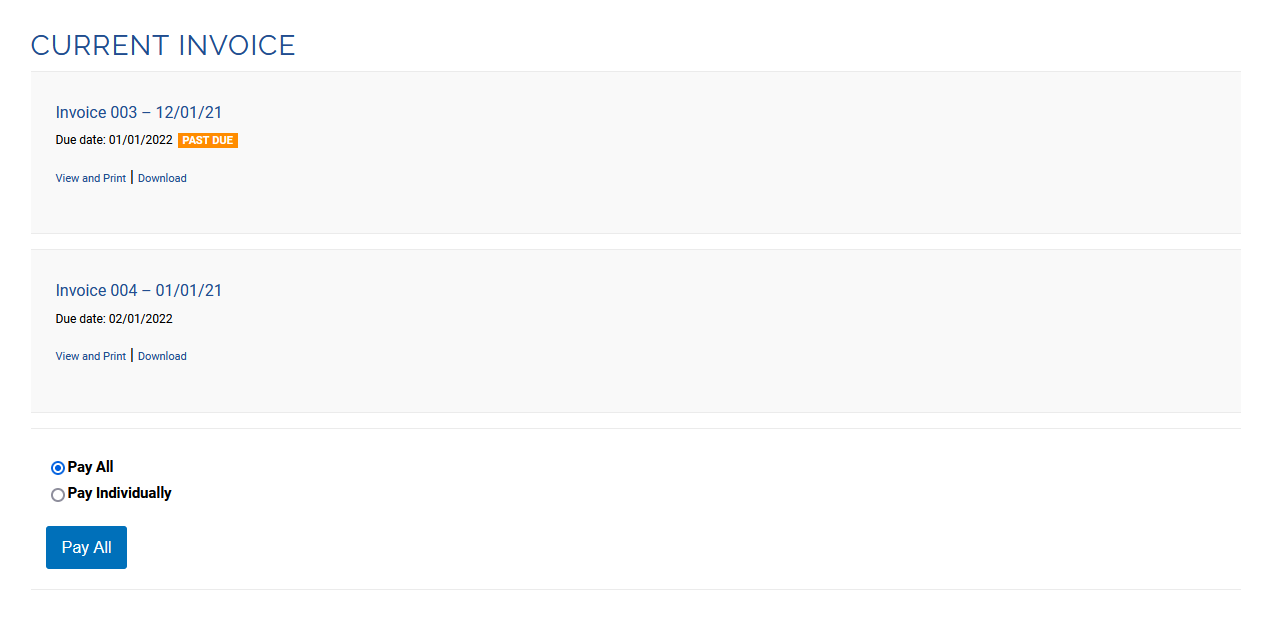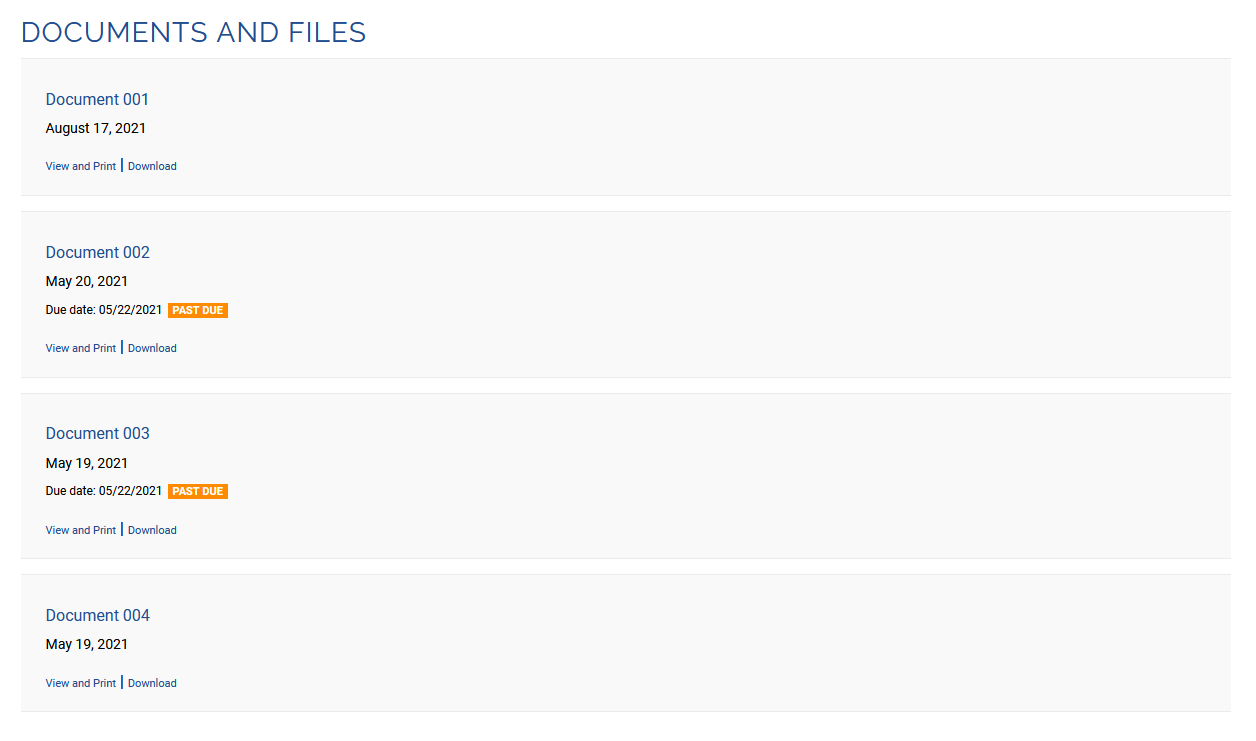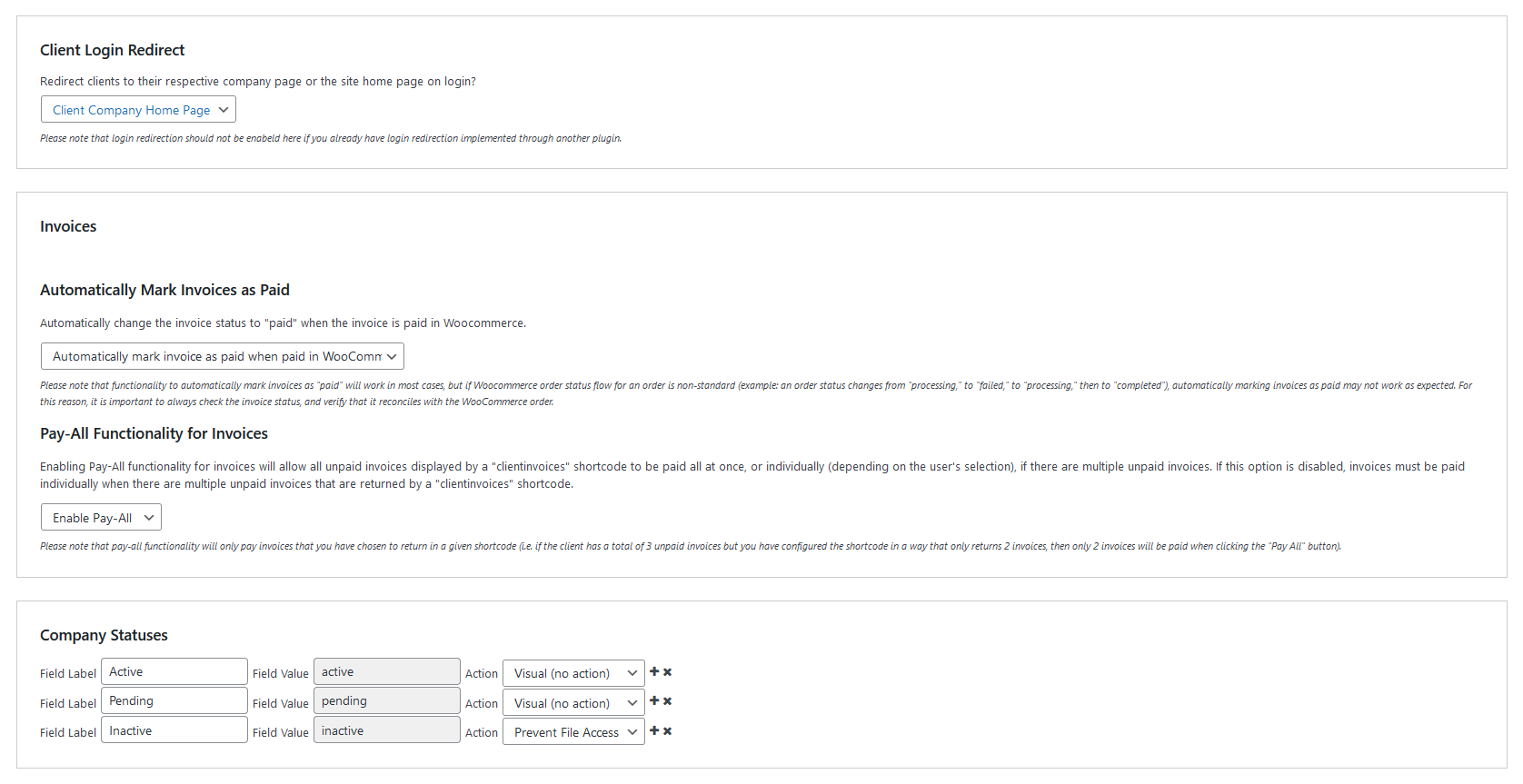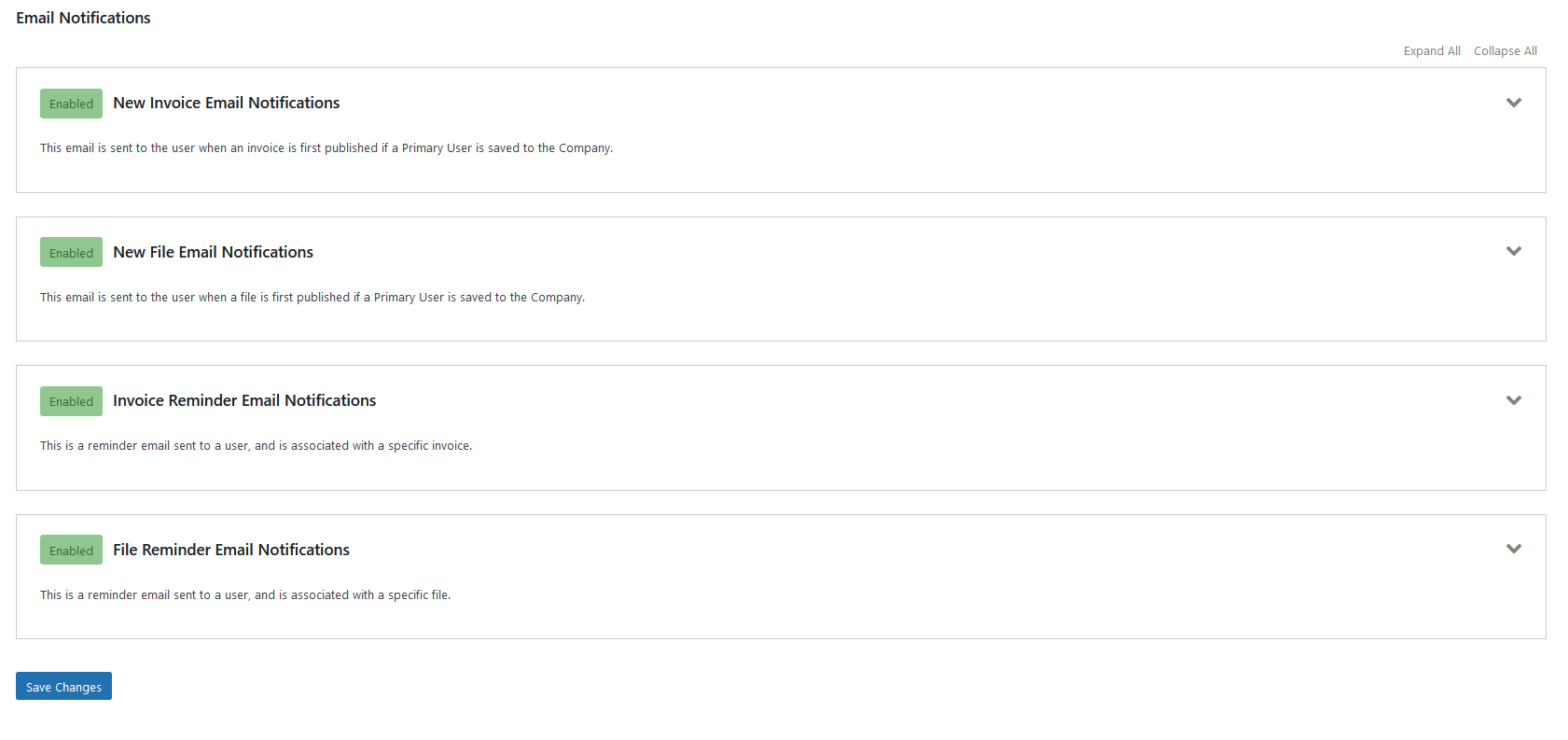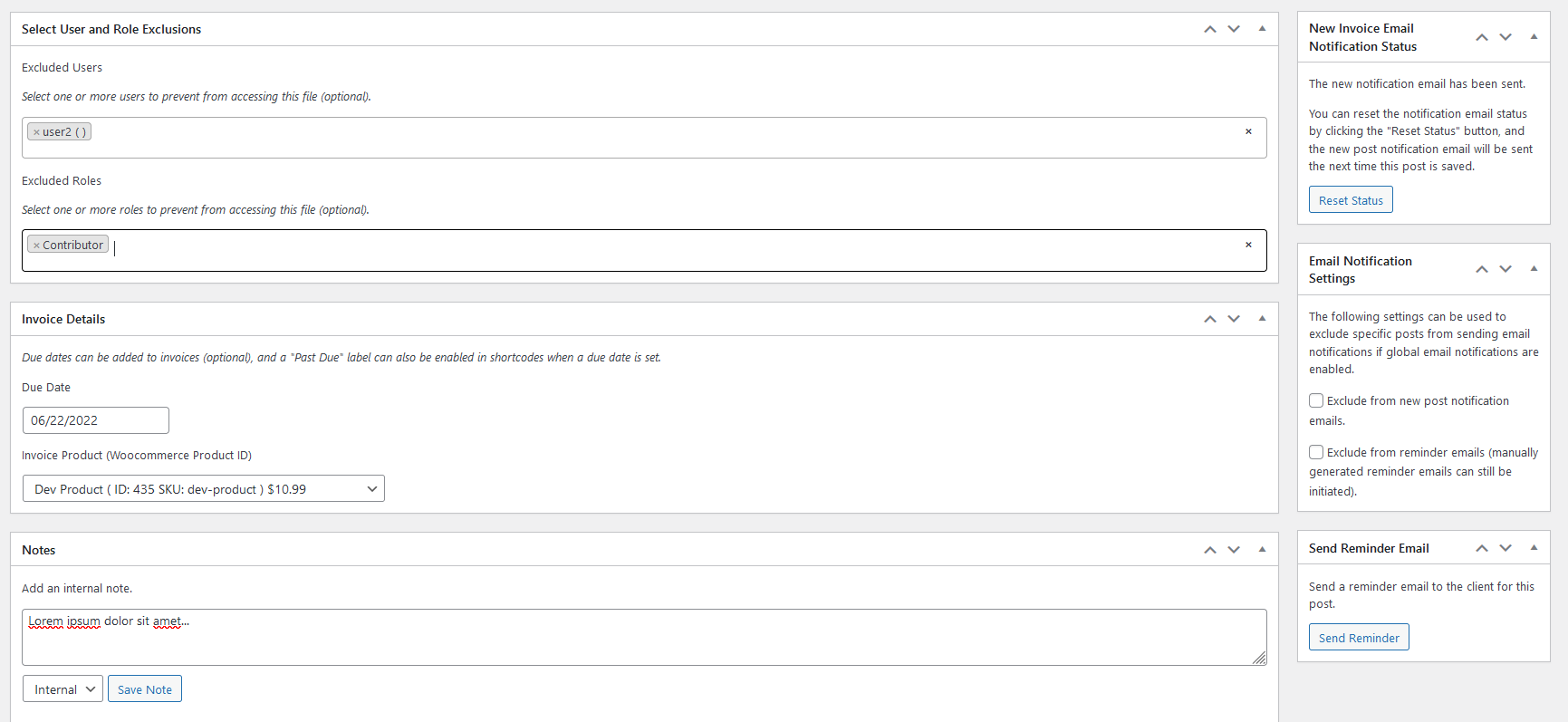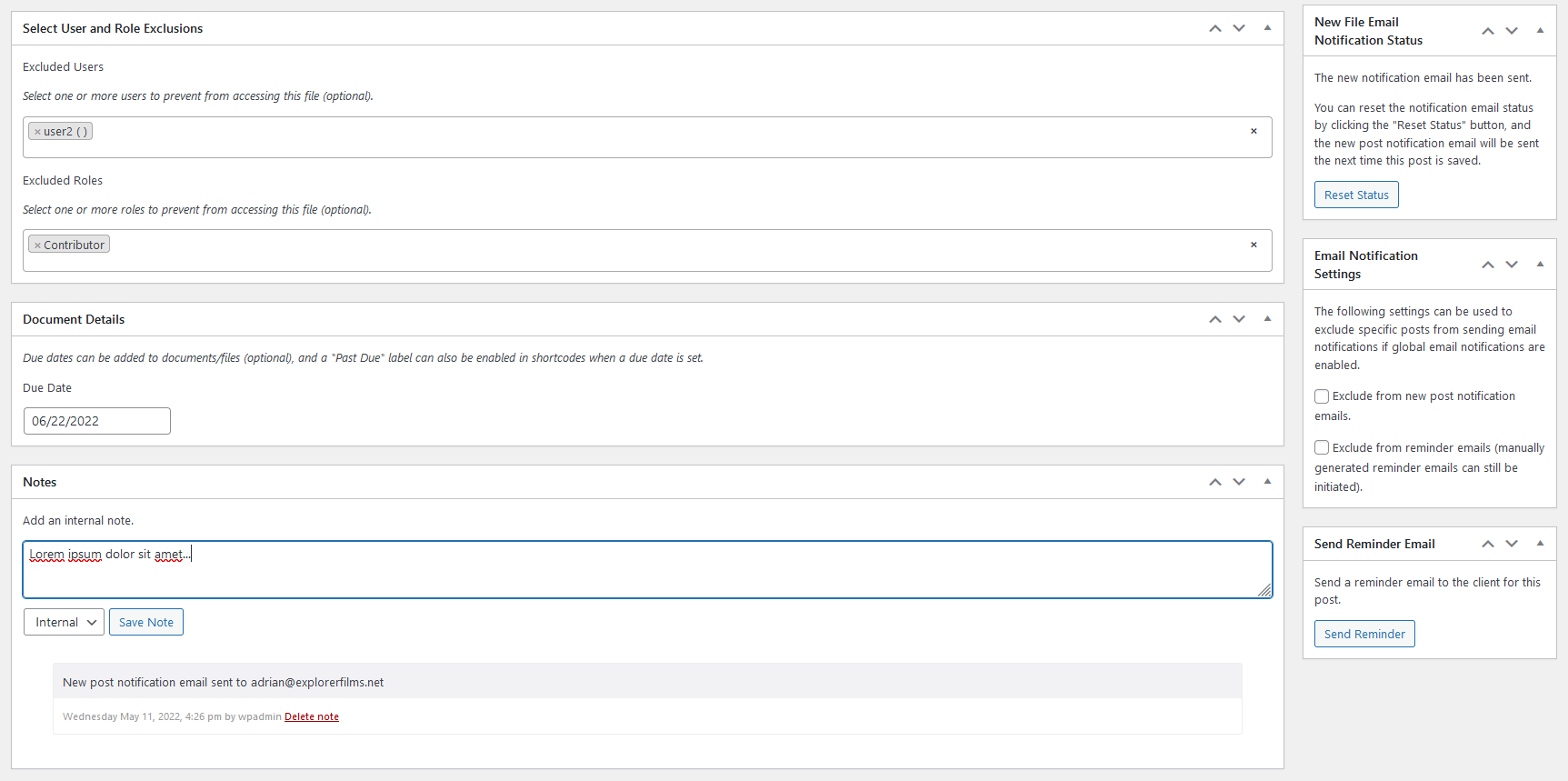 Buy Now
FAQ
Can I use this plugin without a WordPress site?
No. This is a WordPress plugin that is designed to be installed on a WordPress site. So, it must be used on a site that has WordPress intalled.
Can I use this plugin without installing WooCommerce?
Yes. WooCommerce is not required, but the plugin does integrate with WooCommerce to allow payments to be processed for invoices. You can, however, choose not to use this functionality, or implement a custom workflow to suit your needs.
Is WooCommerce required to accept payments for invoices?
Yes. WooCommerce is required if your payment processing workflow utitlizes WooCommerce to process payments. However, if you have implemented a custom workflow that does not rely on WooCommerce for payment processing, it may not be necessary in your operation.
Can this plugin be installed on my public WordPress site?
Yes. The client pages are custom post types that work concurrently with standard WordPress pages and posts. So, you can have both private client pages (invoices and files) and standard Wordpress pages and posts on the same site. Your client pages will only be accessible to those that are logged in, and have been granted access, while your public pages and posts will be publicly accessible.
Can I provide private files and documents for my clients to access and download?
Yes. Constellation Client Portal is designed to allow you to post files and documents for your clients that only a specific client has access to. Anyone who has not been granted access to a specific client page or file will not be able to view that asset.
Can I provide private posts and information to my clients?
Yes. The client files and invoices allow you to upload/attach files (optional), as well as post freeform content via a WYSIWYG post editor.
Can I only display client pages to a specific client when they are logged into my site?
Yes. By default only users that are logged in have access to client pages and files. Further, only users that have been added to a specific company, are able to view pages and files for that company.
Can I automatically redirect clients to their client page when they log into my site?
Yes. You can enable automatic login redirection and choose to redirect clients to their respective client page when they log in. This option should only be enabled if you do not already have login redirection enabled through another plugin.
Can I automatically change an invoice status to paid when an order is paid in WooCommerce?
Yes. You can enable functionality that automatically changes an invoice status to paid when it is paid in WooCommerce, or when the WooCommerce order status changes to "completed" (depending on your preference).
Can I restrict access to specific documents and pages for specific users or roles?
Yes. Paid versions of the plugin allow you to restrict access to client pages, client files, client invoices, file categories, and invoice categories, by specific user or role. So, while you might assign a client page to a specific company, you can adjust access to specific assets for specific users and roles within that company, to suit your needs.
How do I upgrade from the free version to the pro version?
Navigate to WordPress Admin -> Plugins.
Locate the "Constellation Client Portal" plugin in the list (the basic version) and click "Deactivate."
Once the basic version of "Constellation Client Portal" is deactivated, install and activate Constellation Client Portal Pro by following the installation instructions here.
Note: There is no need to uninstall the basic plugin, and your existing data will not be lost. Also, multiple versions of the Constellation Client Portal plugin (example the Basic and Pro versions) should never be active at the same time.
Do I have to renew my plugin license every year?
Your plugin license is set to auto renew every year by default, but you can disable this at any time by going to My Account -> Subscriptions and clicking "cancel". This will prevent your subscription from renewing at the end of the current term (you will still have access to updates until the end of your current term).
However, maintaining an active license each year ensures that you receive regular plugin updates throughout the year, which is important for ensuring compatibility with new versions of WordPress (and popular plugins). An active license also ensures that you receive critical patches, as well as new features, as they are released.
Buy Now
Documentation
View the Constellation Client Portal documentation for installation instructions, how-to's, shortcodes, and workflows.
Please sign in to post a review if you have purchased this product.
*Site-Level File Protection provides basic restriction of direct access to files in the Constellation Client Portal file directory (ex. https://your-company.com/wp-content/accp-clientfiles/invoice.pdf) that would otherwise be visible to search engines, bots, and anyone with the direct link. This feature works on the site level, rather than the server level, and while it adds a layer of security to control and restrict document and file access, it is not a comprehensive or fully reliable solution. Fully effective file and document access control must be configured at the server level, which is beyond the scope of this plugin. Please see our Terms of Service for more information.